Awards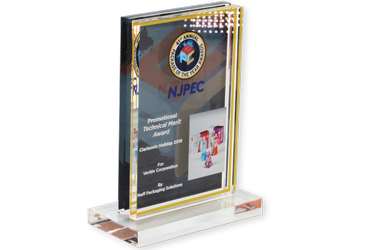 Award Winning Packaging Innovation Generates Business Results & Wins Awards
Neff Packaging Solutions is focused on solving difficult challenges with innovative packaging ideas and this approach also wins awards. Previously Neff was recognized as a leading technologically advanced folding carton plant in North America.
In December, they were recognized at the 2019 New Jersey Packaging Executives Club 41st Annual Package of the Year Award in the area of Technical Merit for production of Clarisonic Holiday 2018 packaging for Veritiv Corporation.
At Neff technical know-how includes a packaging process that is reliable, repeatable, lean, and sustainable. We design and manufacture specialty paperboard packaging for pharmaceutical, luxury goods, health care, promotional, and consumer sampling products using specialty coatings, printing, embossing and holographic production techniques to provide our clients with the brand enhancing packaging to help them win the "First Moment of Truth" at retail.
Neff's campus in Simpsonville, Kentucky includes 122,000 square feet of state-of-the-art manufacturing, an innovation center for structure and design, and 80,000 square feet of space for Vendor Managed Inventory. Our innovative packaging solutions will reward you with increased sales.