News


Moving Press Checks from Our Facility to Your Home
Thanks to the unprecedented times we're living in, businesses are doing more and more things virtually than ever before. The printing industry is no exception.
Press checks are a part of life for all of us, but even that tried-and-true quality control process has gone virtual.
Virtual Press Checks Start Well Before the Actual Press Check
Succeeding in the virtual space means being prepared for anything. From simple package design to complex layouts, it's important to establish a strong preapproval process and quality assurance testing well before a virtual press check. This can include assembling an experienced team for a series of internal meetings and "pre-game" consultations with clients to set clear expectations and timelines. It also makes certain that everyone is on the same page throughout the entire life cycle of your project.
Virtual Press Checks can Save Everyone Time and Expenses
Communication is vital throughout the entire process. Whether it's exchanging photos of the press sheets or establishing an approval protocol, keeping everyone informed is the key to a successful printing job.
Virtual press checks are likely here to stay, which can be great for your business. They take less time to complete than an on-site press check, and you can save on your overall costs.
Neff is here for you through every virtual step to exceed your expectations.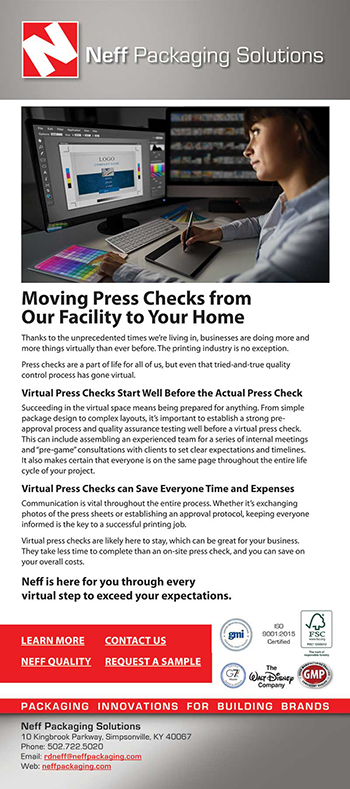 ---
Consumers rank packaging higher when it lives up to the excitement of the product.
How Does Your Packaging Rank?

We know that many consumers rank a product's packaging, almost equal to the brand. At Neff, we specialize in providing the "surprise factor" that today's shoppers require.
Neff's state-of-the-art printing capabilities are unmatched in North America. We provide advanced printing technologies including soft touches, high gloss coatings, foils and other special effects that make opening your package...extra special.
Additionally, our presses produce spectacular effects without expensive tooling/dies for short runs—making production of beautiful packages for your special promotion or test market—sensational and at the same time affordable.
Our in-house capabilities provide the widest array of packaging enhancements including:
Specialty Inks & Textured Effects
Cold Foil & Foil Stamping
Embossing
Die Cutting, Gluing, Tipping & Labeling
Security Options
Neff delivers the advanced effects your package requires...
to outrank all the others!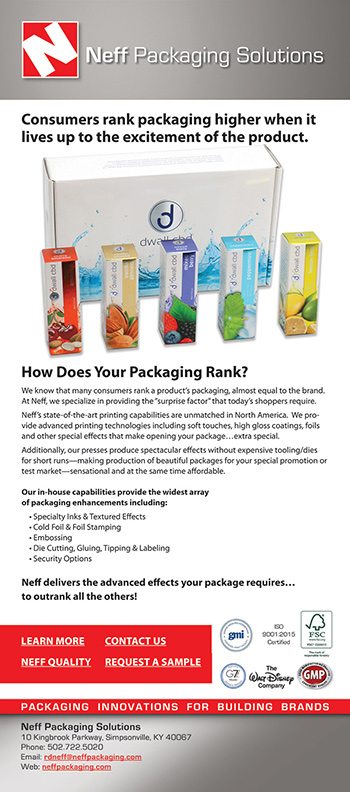 ---
Wishing Everyone Merry Christmas
& Happy New Year
Neff Packaging will be closed in observance of the holidays December 24th, 25th, 31st and January 1st.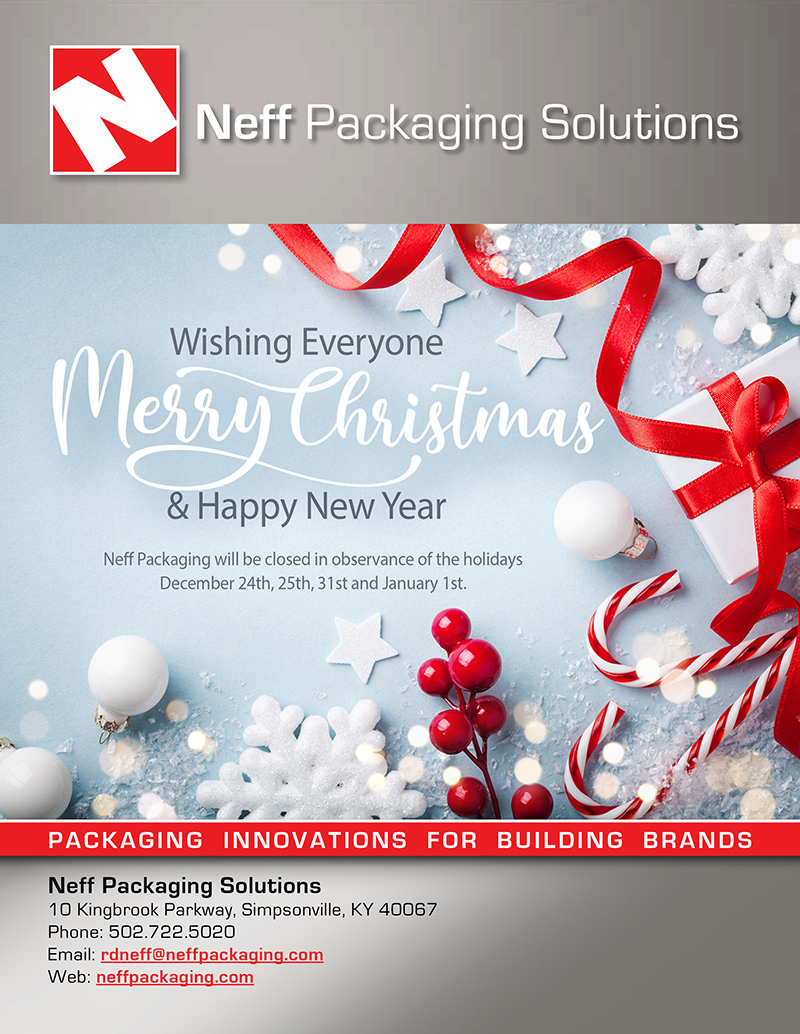 ---
Packaging Innovations That Builds Brands Michter's Commemorative Packaging
Neff was selected to develop and manufacture new folding cartons to commemorate Michter's Fort Nelson Distillery. This important brand dates to 1753 and claims to be America's first whiskey company.
Challenge
The original art specifications were problematic: metalized polyester with solid bleach sulphate that required: two white inks, CMYK, a match yellow to create copper, one background color, two coatings. These specifications would produce an expensive package that would not be environmentally friendly. The Neff design team went to work to develop a sophisticated package that was both recyclable and cost effective.
Solution
To create a more sustainable solution, we tested cold foil as a replacement for the polyester. Cold foil is applied during the printing process and is adhered to the paperboard with glue. When recycled, the foil separates from paperboard during the deinking process, is burned for fuel, and does not go into the waste stream. Cold foil can be applied to just the areas needed for foil blocking.
Our solution saved Michter's money while reducing its impact on the environment. Using cold foil allowed the elimination of two colors from the artwork, which also eliminated the cost of two inks and two plates. In addition to the costs savings, it also reduced time during prepress.
When your product needs a technically precise package to present your brand that is cost effective and environmentally friendly – accept nothing less.
---
In a world of crisis,
how did your BCP plan hold up?
Neff Packaging Solutions can help.
Is your Business Continuity Plan ready to meet today's challenges? Neff Packaging Solutions has the capacity and experience to satisfy your BCP requirements. This is especially critical in today's environment where safety and consistency cannot be overlooked in any consumer market.
Additionally, our in-house resources, including state-of-the-art high performing presses and our new Structural & Design Innovation Center have long been the envy of the industry. Neff's investments on the production floor, complete with specialized capabilities, have been instrumental in achieving speed to market and sales-winning packaging.
Neff In-House Advantages:
Safety with verifiable accuracy
Quality ISO-9001-2015 certified, cGMP, FSC, G-7 Master printer, GMI, Ecovidas Corporate responsibility, Disney Social responsibility
Patented Solutions that increase sales at less cost
Speed to handle unplanned demands from customers
Designs/Materials/Processes that increase sales
From high-speed printing with complete color management to specialty inks, coatings, textured effects, and security features – Neff offers it all in-house for fast and continuous deliveries of your packaging. We invite you to our facility to see what others have called 'The fastest and most advanced printing facility in the US.
---
COVID-19 Announcement
We are in unprecedented times. The spread of COVID-19 has disrupted every aspect of our lives, and things are changing quickly. I wanted to provide an update on the actions of Neff Packaging Solutions is taking to safeguard the health and wellbeing of our customers, our team and their families.
We have taken the following preventive measures: restricting non essential business travel; implementing audio and video conferencing wherever possible; encouraging our employees to wash their hands, wiping down door handles and surfaces, social distancing in the working environment and doing all we can to stay updated on COVID-19 developments and best practices recommended by the CDC.
From a business perspective, Neff Packaging Solutions is currently operating with no disruption. We continue to serve our customers as we always have. We're actively monitoring the situation and our supply change.
Jim Younkin
Executive Vice President & COO
Neff Packaging Solutions
---
Neff Packaging
Solving Difficult Packaging Challenges Since 1918
WE'VE BEEN PROVIDING INNOVATIVE PACKAGING SOLUTIONS THAT REDUCE WASTE, COST, AND TIME... GUARANTEED.
Neff Packaging Solutions is recognized as one of the most technologically advanced folding carton plants in North American and provides innovative custom packaging solutions for many of the nation's top Branded Consumer Product companies. Our operational effectiveness and technology-based strategies allow us to develop creative solutions that meet the specific needs of our customers. We solve difficult challenges with an approach that is both lean and sustainable.
We design and manufacture specialty paperboard packaging for branded consumer product companies, including bonus packs, club store, consumer sampling, professional packaging, counter-top displays, blister cards, foil packaging, and other kinds of specialty packaging material.
Neff Product offerings span industries from health care, luxury goods, tobacco & spirits, promotional and consumer sampling.
Our strength is in finding creative solutions to customer problems that create a better package at a better cost.
Neff Packaging, Delivering Results!
Trusted For Consistent Repeatability
The Fastest Production Facility In The Nation
Known For The Perfect Package
Advanced Direct Mail Sampling Options
Verifiable Accuracy & Safety In Consumer Markets
---
Award Winning PackAging Innovation Generates Business Results & Wins Awards
Neff Packaging Solutions is focused on solving difficult challenges with innovative packaging ideas and this approach also wins awards. Previously Neff was recognized as a leading technologically advanced folding carton plant in North America.
In December, they were recognized at the 2019 New Jersey Packaging Executives Club 41st Annual Package of the Year Award in the area of Technical Merit for production of Clarisonic Holiday 2018 packaging for Veritiv Corporation.
At Neff technical know-how includes a packaging process that is reliable, repeatable, lean, and sustainable. We design and manufacture specialty paperboard packaging for pharmaceutical, luxury goods, health care, promotional, and consumer sampling products using specialty coatings, printing, embossing and holographic production techniques to provide our clients with the brand enhancing packaging to help them win the "First Moment of Truth" at retail.
Neff's campus in Simpsonville, Kentucky includes 122,000 square feet of state-of-the-art manufacturing, an innovation center for structure and design, and 80,000 square feet of space for Vendor Managed inventory. Our innovative packaging solutions will reward you with increased sales.
---
Delivering Results
Advanced direct mail & retail sampling options designed to increase sales at less cost.
Finally, a sample mailer that meets postal regulations, mails at low cost, and has a large billboard space for printing!
Advantages:
USPS Approved for Sachet Mailing
Mails at Automated Letter Rate

$0.22–0.27 (depending on mailing list)

Large Billboard Space

outside and inside printing opportunities
couponing available

Secure Sample Section

ideal for liquids, gels, pastes, and powders

Recyclable Board & Film
Easy to Open
Many Sizes
U.S. Patent No. #10065765 and #RE46998
Unlike most packets that mail as automated flats at 50 cents each, SafeMailer™ is mailed at 25 cents each. That's a postage savings of $250,000 for a mailing of one million samples!
Delivering Savings with SafeMailer™
---
Neff Packaging Solutions recently installed a Scodix Ultra Pro™ digital press with a Scodix Foil Station™ to create specialty boxes with high-end luxury finishes. To experience the premium effects of this press, visit neffpackaging.com to request a sample (USA only).
In conventional processes, embossing requires a 2-step die and a separate die cutting pass. Our new Scodix press produces the desired effects without time consuming and expensive tooling and dies for short runs.
This digital process allows Neff to add high gloss, foil, and selective spot varnish enhancements in-house in a single pass. Consumer packaged goods industries including cosmetics, perfume, spirits, confections, and health care will benefit greatly from this capability.
Enhanced Effects for CPG Packaging:
Digital UV Effects
Digital Foil Stamping
Digital Spot Varnish
Digital Braille
To request a box sample,
complete our order form.
---
You are invited to our Open House at the Penn Club during LUXE Pack New York 2017
Neff will be presenting new packaging innovations with our Scodix press at our open house at the Penn Club during LUXE Pack NY.
Join us for cocktails, appetizers, and conversation.
---
Visit Neff Packaging Solutions at the
"Packaging That Sells Conference"
October 12-14 in Chicago!
The Drake
Chicago, IL
More Information.
---
Neff Introduces SafeMailer™!
Finally, a sample mailer that meets postal regulations, mails at low cost, and has a large billboard space for printing!
Learn more here: Consumer Sampling.